IN PATIENTS WITH RECURRENT PROSTATE CANCER BASED ON ELEVATED SERUM PSA,
PSMA PET with PYLARIFY® achieved the primary endpoint of correct localization rate: 85%-87% across all 3 readers (lower bound of 95% CI: 78%-80%)2
This result significantly exceeds the FDA-recommended threshold, which was defined as the lower bound of 95% CI exceeding 20% for at least 2 of the 3 readers2,3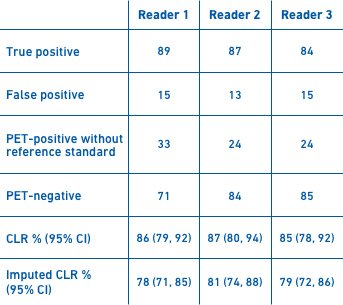 CLR was the location-matched positive predictive value in the Evaluable Set (true positive/[true positive + false positive])2
Imputed CLR was the location-matched positive predictive value in all scanned patients using an imputation approach based on patient-specific factors for patients who were PET-positive without reference standard2
CLR is a measure of positive predictive value enhanced with precise anatomic location of site of disease
CLR is based on anatomic lesion matching, or co-localization, of lesions identified by PYLARIFY® and lesions identified by the standard of truth (SOT)
The correct localization rate was defined as the percentage of patients with a 1:1 correspondence between at least 1 lesion identified on PYLARIFY® and on the standard of truth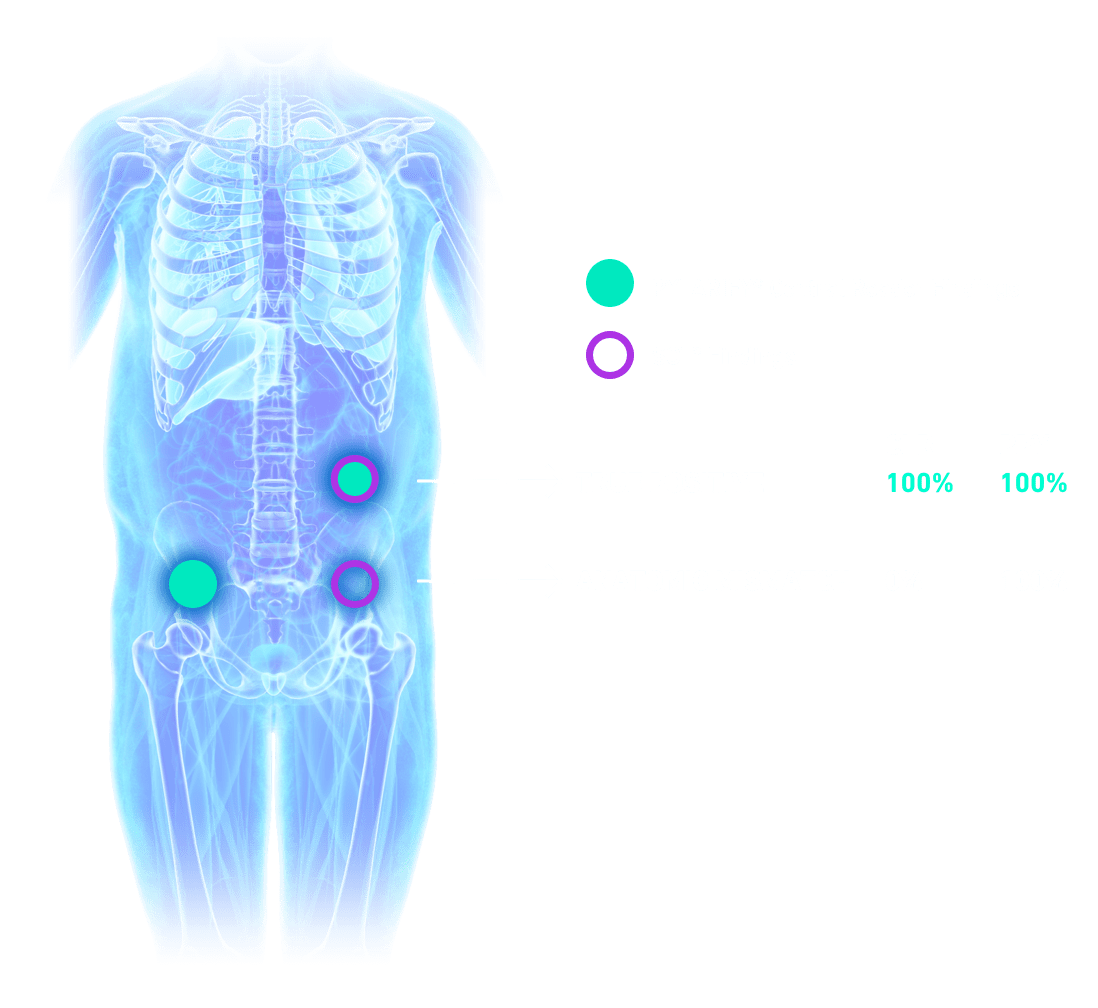 *SOT is hierarchically defined either as:
Evaluable local

histopathology findings

for prostate cancer from surgery/biopsy, or
Informative

standard imaging

(eg, 18F fluciclovine PET [preferred if not performed at baseline] or choline PET; targeted MRI/CT), or

PSA response

per central lab analysis in subjects treated with RT only (no concomitant ADT) following PYLARIFY® PET/CT imaging
PYLARIFY® (piflufolastat F 18) injection CLR remained high regardless of which imaging modality was used as the standard of truth3:

18F fluciclovine PET/CT (n=71): 86.8%-90.9% across the 3 readers
MRI (n=23): 80.0%-86.7% across the 3 readers
CT (n=6): 80.0%-100% across the 3 readers
PYLARIFY® PET/CT demonstrated high CLR independent of baseline PSA levels3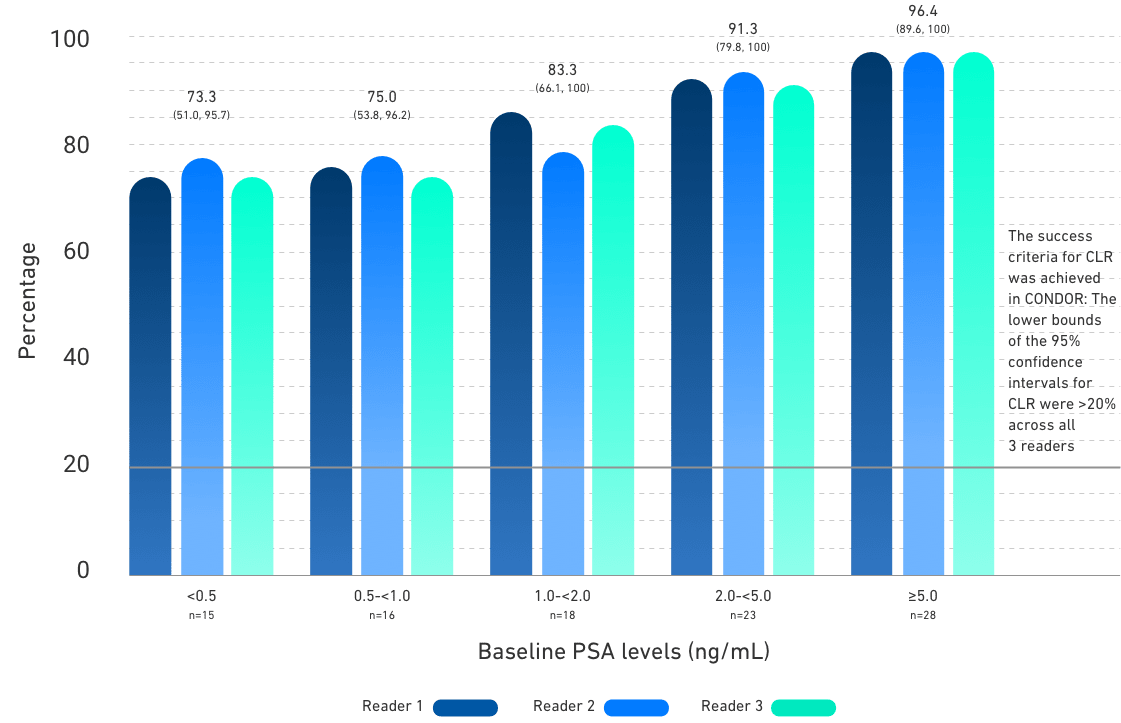 Detection rates for PYLARIFY® PET/CT rose with increasing PSA levels (36.2% at <0.5 ng/mL to 96.7% at ≥5 ng/mL)3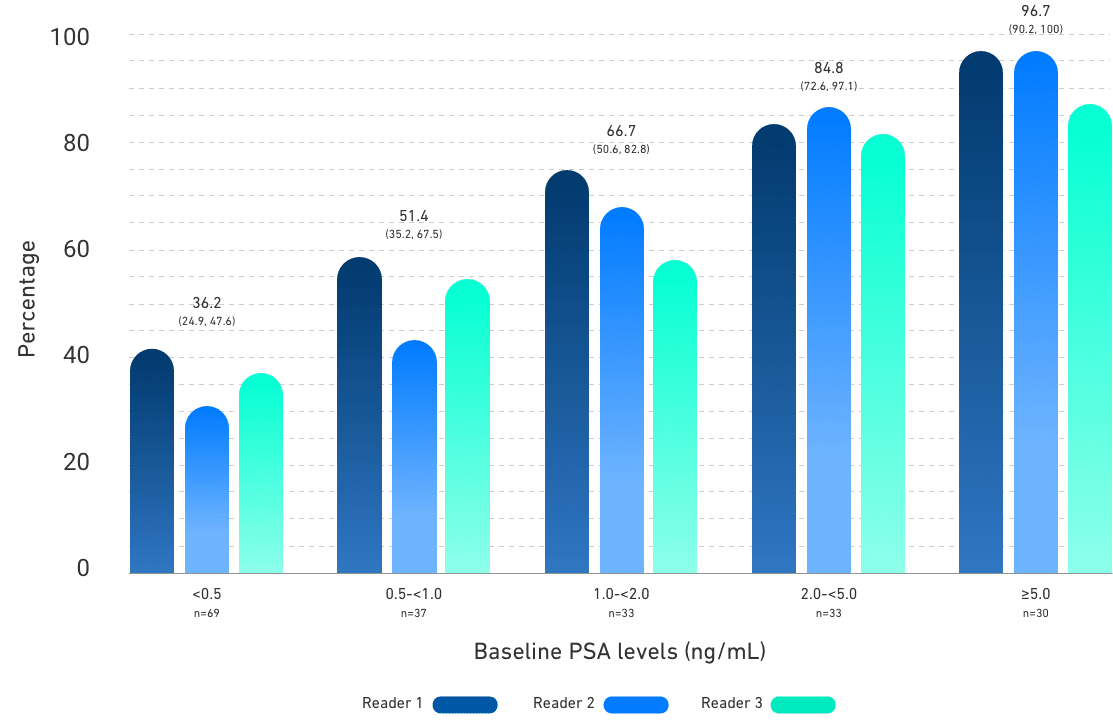 In patients with biochemically recurrent PCa,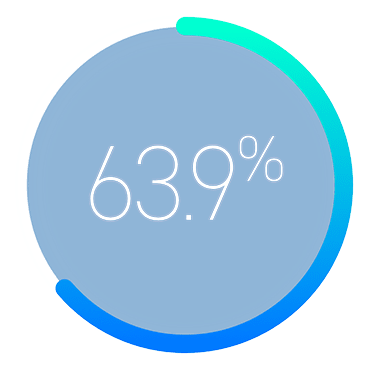 (131/205) of patients with noninformative standard imaging† had a change in intended management plan3‡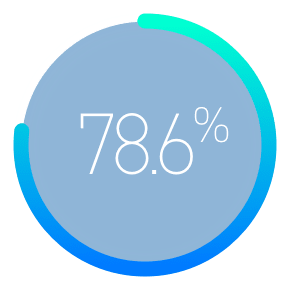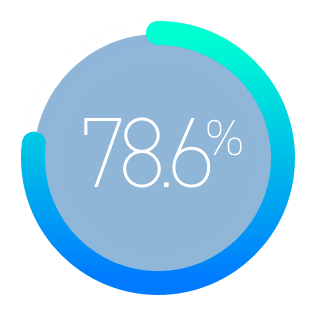 (103/131) of the changes were based on positive PYLARIFY® PET/CT findings3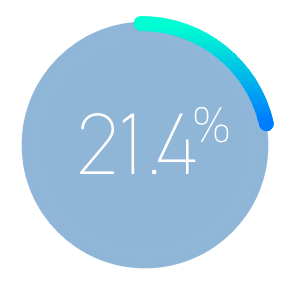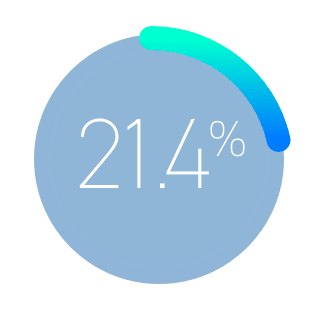 (28/131) of the changes were based on negative PYLARIFY® PET/CT findings3

Following PYLARIFY® imaging results, the most frequent changes to treatment
management plans were (N=205)3:
Salvage local therapy that 
was either supplemented replaced by systemic therapy 
(n=58; 28.3%)
Systemic therapy salvage local therapy 
(n=43; 21.0%)
Observation initiating therapy (n=49; 23.9%)
Planned treatment observation (n=9; 4.4%)
†Standard Imaging included CT/MRI/Bone scan and 18F fluciclovine.3
‡Change in treatment plan was a secondary endpoint in CONDOR. Future studies will be necessary to demonstrate whether PYLARIFY® PET/CT-directed changes in management lead to improved outcomes for patients with prostate cancer.3
REVIEW THE CONDOR CLINICAL TRIAL DESIGN3
CONDOR was a robust, multicenter, phase 3 trial of 208 patients with suspected recurrent or metastatic prostate cancer with negative or equivocal results using standard imaging
CONDOR assessed correct localization rate (CLR)—an improved metric for evaluating diagnostic performance compared to PPV—in men with biochemically recurrent prostate cancer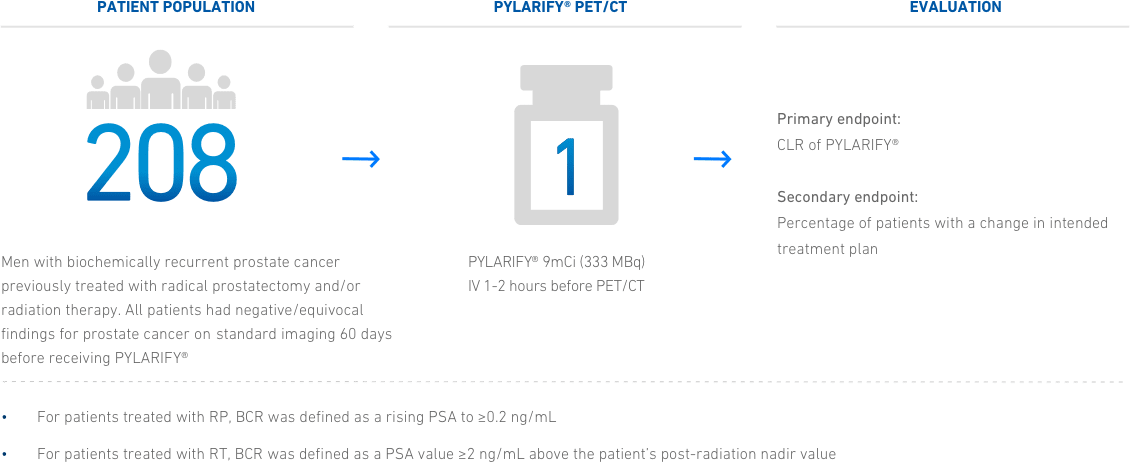 ---
REFERENCE STANDARDS OF TRUTH IN CONDOR
Because most patients were not expected to have an amenable lesion for histological verification, a composite standard of truth was discussed with the FDA based on these reference standards (in order of priority):
Evaluable histopathology results from prostatectomy, salvage pelvic lymph node dissection, or targeted biopsy
Correlative follow-up imaging findings using 18F-fluciclovine or 11C-choline PET, or focused MRI or CT
If neither of the above was available or informative, confirmed PSA response§ up to 9 months post-radiation initiation (without concomitant ADT) of all PET-positive foci
§PSA response was defined as PSA decline by ≥50% from baseline that was confirmed on repeat measurement within 4 weeks, based on central laboratory results.
---
CONDOR included patients with a broad range of PSA levels and Gleason scores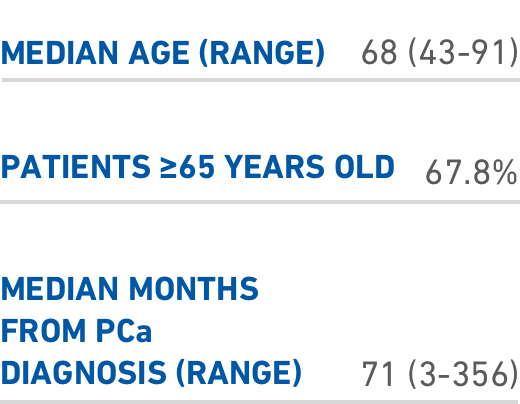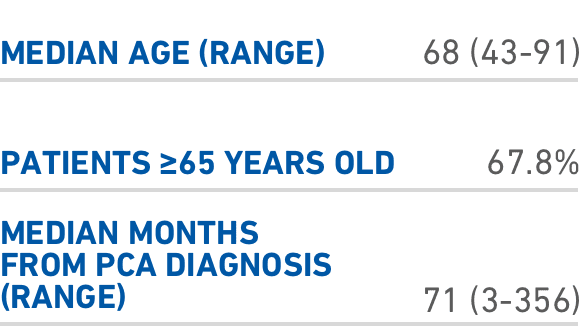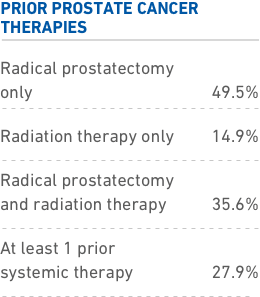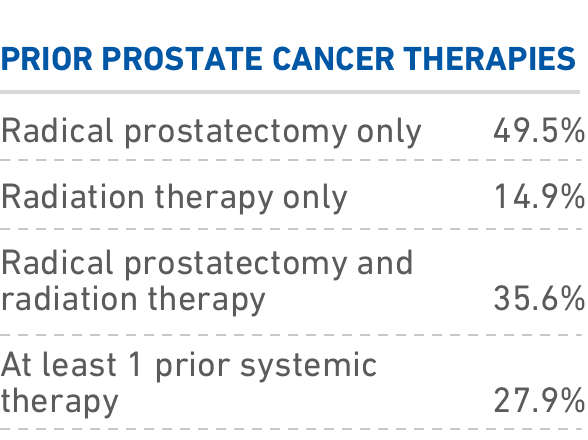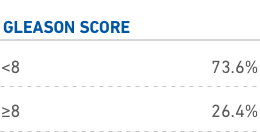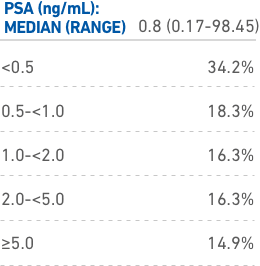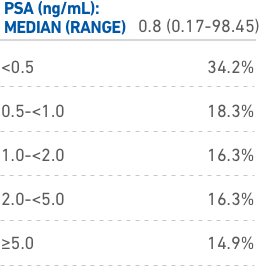 BCR=biochemical recurrence; CI=confidence interval; CLR=correct localization rate; CT=computed tomography; MRI=magnetic resonance imaging; PCa=prostate cancer; PET=positron emission tomography; PSA=prostate-specific antigen; RP=radical prostatectomy; RT=radiation therapy.
INDICATION & IMPORTANT
SAFETY INFORMATION
PYLARIFY® (piflufolastat F 18) Injection is a radioactive diagnostic agent indicated for positron emission tomography (PET) of prostate-specific membrane antigen (PSMA) positive lesions in men with prostate cancer:
with suspected metastasis who are candidates for initial definitive therapy.
with suspected recurrence based on elevated serum prostate-specific antigen (PSA) level.
References
FDA clearance letter for aPROMISE X. Food and Drug Administration. April 29, 2022.
PYLARIFY® [package insert]. North Billerica, MA: Progenics Pharmaceuticals, Inc., a Lantheus company.
Morris MJ, Rowe SP, Gorin MA, et al. Diagnostic performance of 18F-DCFPyL-PET/CT in men with biochemically recurrent prostate cancer: results from the CONDOR phase III, multicenter study. Clin Cancer Res. 2021;27(13):3674-3682. doi:10.1158/1078-0432.CCR-20-4573
Pouliot F, Gorin MA, Rowe SP, et al. Changes in planned disease management after piflufolastat F 18 PET/CT in men with biochemically recurrent prostate cancer and low PSA levels: a secondary analysis of results from the CONDOR study. Poster presented at: 2023 ASCO Genitourinary Cancers Symposium; February 16-18. Abstract ID: 61.