PYLARIFY® PET/CT Case Studies
---
In 2 patients with similar clinical presentation, PYLARIFY® PET/CT 
reveals each patient's unique extent of disease2
CASE 1: 73-YEAR-OLD MAN
BCR after radical prostatectomy and lymph node dissection | pT2N0M0 | Gleason 3+4 | PSA: 0.8 ng/mL

with BCR in peri-rectal lymph node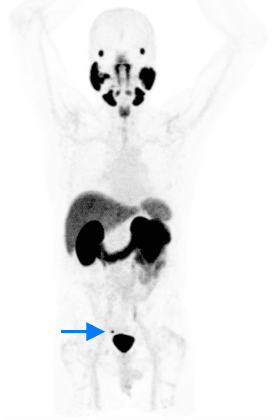 Figure A
BCR treated with SBRT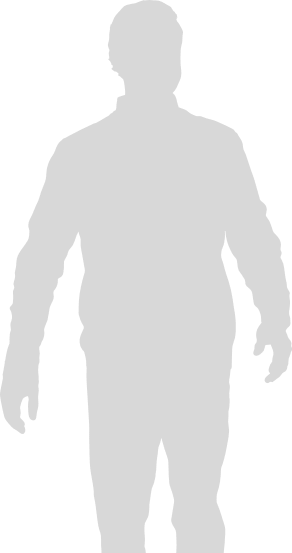 Before PYLARIFY®, the recommended treatment was EBRT to the pelvis with an additional boost to the prostatic fossa
Based on the results of PYLARIFY® PET/CT, the patient received SBRT to the lesion

Post treatment, PSA levels decreased to 0.06 ng/mL
CASE 2: 79-YEAR-OLD MAN
BCR after radical prostatectomy | pT2bN0M0
Gleason 3+4 | PSA: 0.9 ng/mL

with BCR in cervical and supraclavicular lymph nodes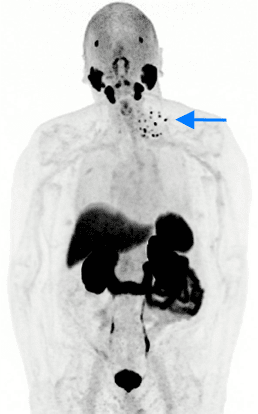 Figure B
with BCR treated with IMRT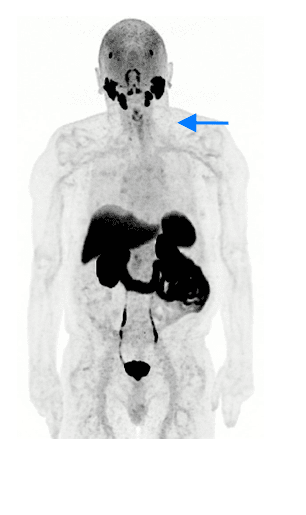 Lymph nodes treated with IMRT and patient was started on ADT
PSA decreased to 0.04 ng/mL 1 month after radiation
Follow-up imaging showed no evidence of metastatic disease
See
PYLARIFY®
scans See
results
In CONDOR, across the 3 readers, PYLARIFY® detected at least 1 previously occult lesion in 59.6%-65.9% of patients3,4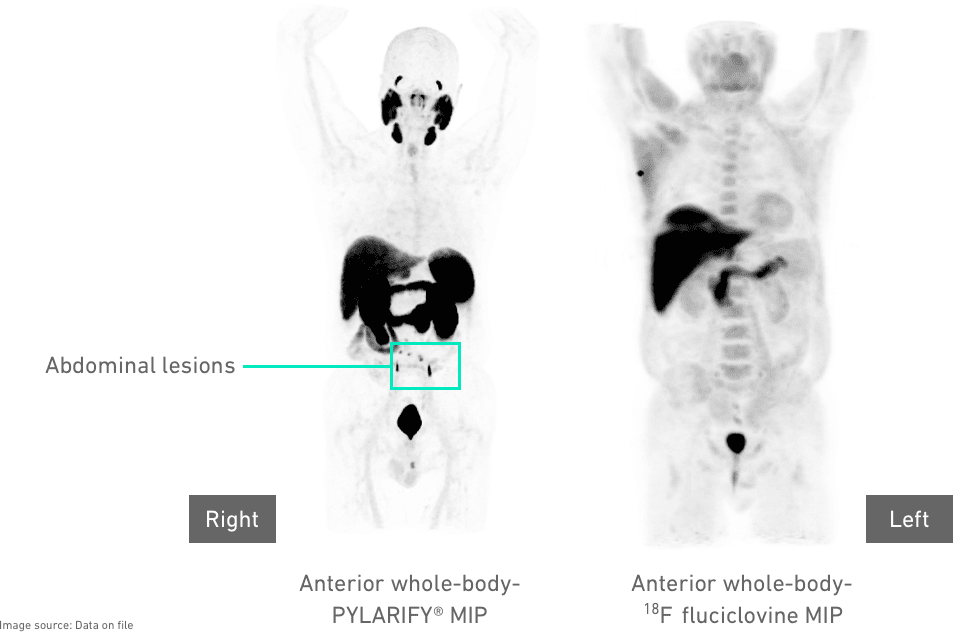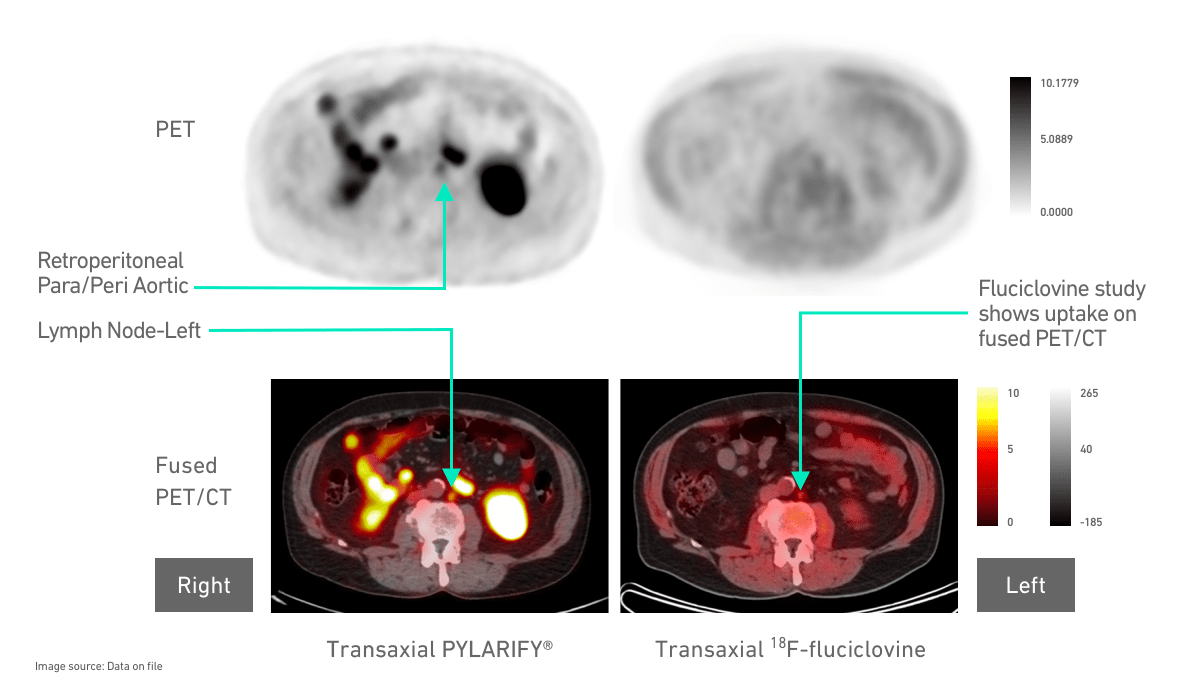 71-year-old patient had a Gleason score of 4+3, history of radical prostatectomy, EBRT with PSA 1.92 ng/mL, and equivocal results on 18F fluciclovine PET/CT scan
PYLARIFY® showed left common iliac lesions and multiple retroperitoneal para/peri aortic lymph node lesions
Biopsy of retroperitoneal lymph node confirmed prostate cancer
ADT=androgen deprivation therapy; BCR=biochemical recurrence; CT=computed tomography; EBRT=external beam radiation therapy; IMRT=intensity-modulated radiation therapy; MIP=maximum intensity projection; MRI=magnetic resonance imaging; PCa=prostate cancer; PET=positron emission tomography; PSA=prostate-specific antigen; SBRT=stereotactic body radiation therapy.
INDICATION & IMPORTANT
SAFETY INFORMATION
PYLARIFY® (piflufolastat F 18) Injection is a radioactive diagnostic agent indicated for positron emission tomography (PET) of prostate-specific membrane antigen (PSMA) positive lesions in men with prostate cancer:
with suspected metastasis who are candidates for initial definitive therapy.
with suspected recurrence based on elevated serum prostate-specific antigen (PSA) level.
References
FDA clearance letter for aPROMISE X. Food and Drug Administration. April 29, 2022.
Data on file. Bedford, MA: Progenics Pharmaceuticals, Inc.; 2023.
Pienta KJ, Gorin MA, Rowe SP, et al. A phase 2/3 prospective multicenter study of the diagnostic accuracy of prostate specific membrane antigen PET/CT with 18F-DCFPyL in prostate cancer patients (OSPREY). J Urol. 2021;206(1):52-61. doi:10.1097/JU.0000000000001698
Morris MJ, Rowe SP, Gorin MA, et al. Diagnostic performance of 18F-DCFPyL-PET/CT in men with biochemically recurrent prostate cancer: results from the CONDOR phase III, multicenter study. Clin Cancer Res. 2021;27(13):3674-3682. doi:10.1158/1078-0432.CCR-20-4573