Across multiple studies (N=593), PYLARIFY® (piflufolastat F 18) injection PET/CT was well-tolerated, with no individual adverse reaction occurring in more than 2% of patients2
Adverse reactions that occurred in >0.5% of  
men who received PYLARIFY® (n=593)*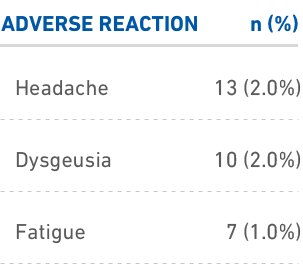 INDICATION & IMPORTANT
SAFETY INFORMATION
PYLARIFY® (piflufolastat F 18) Injection is a radioactive diagnostic agent indicated for positron emission tomography (PET) of prostate-specific membrane antigen (PSMA) positive lesions in men with prostate cancer:
with suspected metastasis who are candidates for initial definitive therapy.
with suspected recurrence based on elevated serum prostate-specific antigen (PSA) level.
References
FDA clearance letter for aPROMISE X. Food and Drug Administration. April 29, 2022.
PYLARIFY® [package insert]. North Billerica, MA: Progenics Pharmaceuticals, Inc., a Lantheus company.